The Brutal Reality of Living with Poor Mental Health and Domestic Violence. An alarming number of people are suffering from mental health issues, and many of them also live with domestic violence. Although these two circumstances may seem unrelated, in reality they often go hand-in-hand, making it harder for victims to escape their situation. Read on to learn more about the complicated relationship between poor mental health and domestic violence, how to recognize the signs, and what you can do if you or someone you know needs help.
The Statistics

An estimated one in three adults experience mental health conditions in a given year. In the United States, approximately 7.6 percent of people aged 18 or older are living with a serious mental illness (SMI) such as schizophrenia, major depression, bipolar disorder, or obsessive compulsive disorder. When women have severe mental health conditions they are more likely to experience intimate partner violence than women without severe mental health problems. An estimated one in four women has experienced severe physical violence by an intimate partner at some point in her lifetime while an estimated 1 in 17 men has experienced severe physical violence by an intimate partner during his lifetime.
The Warning Signs

It's not uncommon for people who are suffering from poor mental health to experience symptoms that mimic or exacerbate those same symptoms. For example, people who suffer from depression may also experience anxiety, while people who experience anxiety may also be prone to panic attacks. Since it's difficult to tell the difference between co-occurring conditions, it can be tough to get help. Here are some warning signs you should look out for:
▪ Do you often feel hopeless? ▪ Are you more irritable than usual? ▪ Have your thoughts become more negative? If so, this could mean that you're experiencing depression. ▪ Does the thought of socializing make you want to cry or vomit? That could mean that your anxiety is getting worse.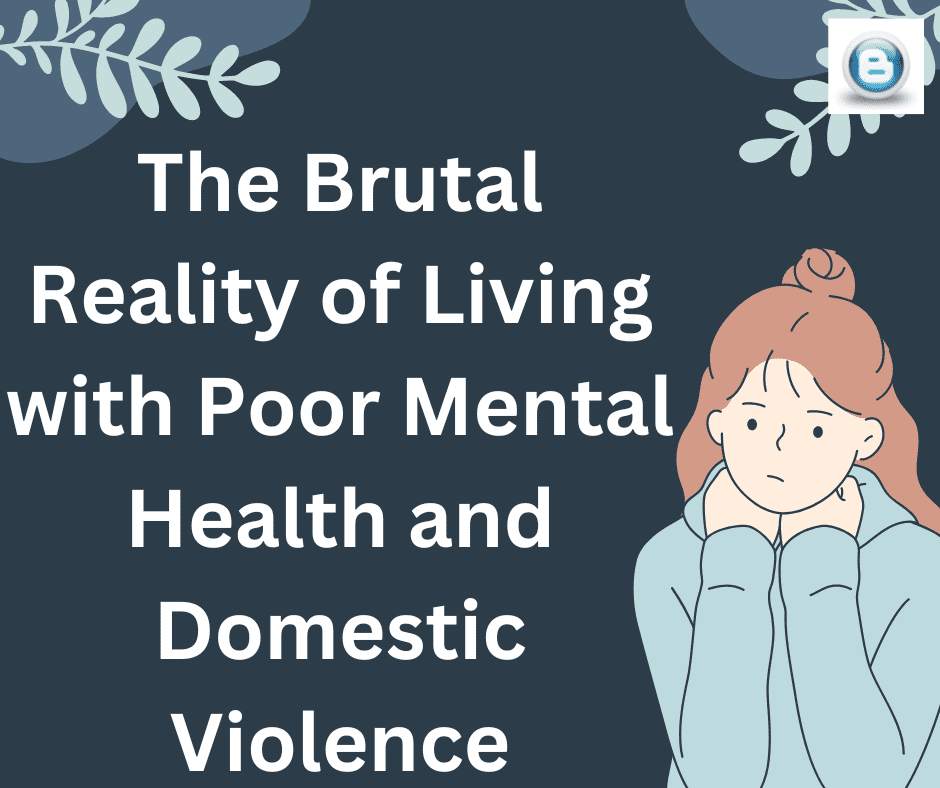 The Cycle of Abuse

Abuse is a pattern of behavior that people use to get power over someone else. The abuser uses threats, intimidation, humiliation, physical force or emotional abuse to control the other person. Abuse can take many forms: physical, emotional, sexual, mental or verbal. One in four women are victims of domestic violence while one in ten men are victims as well. This can be caused by an imbalance of power between two people who have been together for a long time (i.e., cohabitating). Victims may feel powerless and ashamed that they don't know how to stop the cycle.
The Impact on Children

Living in a house where there is domestic violence can be very difficult for children. There may be times when they fear for their own safety or are afraid that they will have to take care of themselves. It can also be a challenge to focus on schoolwork or find the time to do homework because they may need to spend so much time taking care of their family. It's also possible that a child might not know how to get help, but might feel like there's no way out.
The Stigma

Mental health issues often go unnoticed because they are not always visible like physical wounds. People who suffer from mental illness are more likely to experience sexual abuse, be incarcerated, and have substance abuse problems. For example, someone suffering from depression may be more likely to engage in risky behaviors such as unprotected sex, which can lead to HIV or other sexually transmitted diseases. Even though it is difficult for people who suffer from mental illness to speak out about the problem, there are many resources available to help them get the treatment they need
Where to Get Help

1) The National Domestic Violence Hotline is a 24-hour hotline that provides confidential, toll-free services to anyone experiencing intimate partner violence. Callers can access help by dialing 1-800-799-SAFE (7233).
2) There are many other organizations that provide assistance to those in need, but it's important to do your research to find the right one for you.
3) Sometimes, just a phone call can make a world of difference when dealing with these situations.
4) If you are in danger or think someone else is in danger, please call 911 immediately. You can also call the police nonemergency line at 1-844-277-5463.
Conclusion

The Brutal Reality of Living with Poor Mental Health and Domestic Violence.To conclude, you should know that there are many people around the world who do not have the luxury of having proper mental health or living in a safe home. If you feel like your mental health is in danger or you do not feel safe at home, then it is time to get help. There are many different methods of getting help such as therapy, medication, or even self-help books. It is important to remember that you are not alone and there are resources out there for people struggling with their mental health.