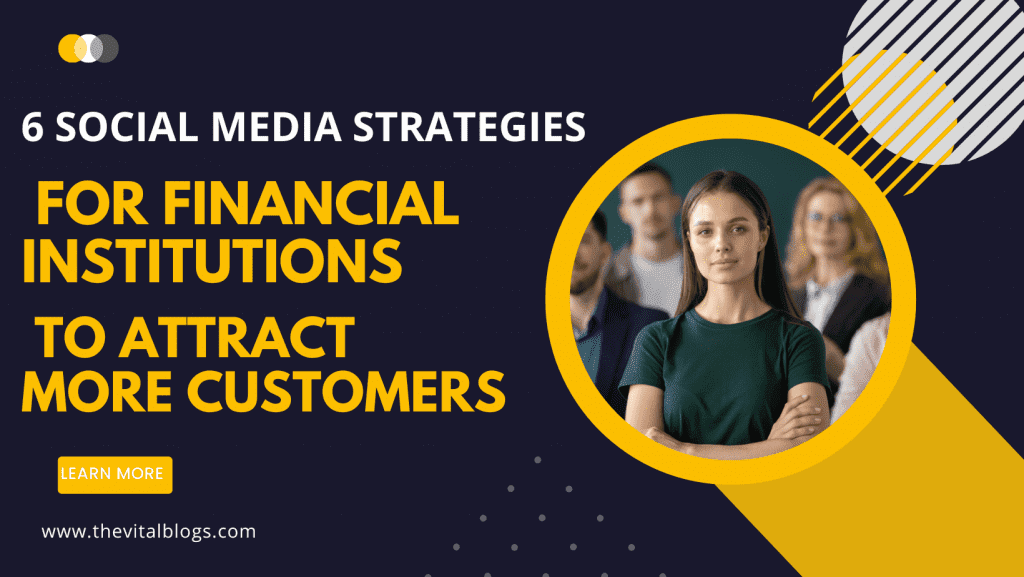 6 Social Media Strategies for Financial Institutions to Attract More Customers. It's no secret that social media has become an invaluable marketing tool for just about every type of business imaginable, but not all business owners are taking advantage of the awesome benefits social media offers. Social media strategy best practices can help financial institutions be competitive in an increasingly digital world, and these strategies will also allow you to attract more customers and boost sales. Here are six strategies you can use to strengthen your social media presence and take your business to the next level.
1) Find your target audience

Marketing is a science that is constantly evolving. To keep up, you need to find out what your customers are looking for and make it easy for them to find it. You also need to know how they like their information delivered, which platforms they prefer and what types of content they want. The most important thing when developing a marketing plan is making sure your strategy aligns with the needs of your target audience.
In order to attract more customers, financial institutions should have a social media strategy in place that will help them attract new clients by highlighting the benefits of their services, answering any questions about products or services and providing customer service through social media channels.
2) Create a content plan
Create a social media account and use it regularly.
Build a following by creating quality content on a regular basis.
Be authentic, be human, and be yourself!
Engage with your followers by answering their questions and sharing your expertise in the field of finance (and beyond).
Connect social media activities to your marketing goals by making sure they align with business goals as well as customer needs and interests.
Promote bank products or services on social media networks in an engaging way that is relevant and appropriate (remember: not spammy!).
3) Choose your social channels
Use hashtag contests for those who share their stories with your company. Hashtag contests are competitions where the person with the best photo, video, tweet or other entry wins a cash prize.
Create a Twitter account that is exclusive to your company and tweet about new products and services, events, happenings around the office and more. You could also ask followers questions like: What's your favorite bank feature? or What's one thing you love about our bank?
Use short words and sentences so followers can see all of your tweets at once. If you're looking for tips on how to keep it brief but catchy check out this list of 22 tips on how to write better tweets.
4) Engage in real-time conversations

We live in a world where people are constantly online. This is both good and bad, of course. But it also means that people are constantly looking for more information about the topics they're interested in. As a financial institution, you can use social media platforms like Twitter, Facebook, or LinkedIn to reach out and engage with your customers in a way that will make them feel more connected to your institution. Here are some tips on how financial institutions can do this:
Get personal! Use these platforms as an opportunity to provide an inside look into the daily operations of your company and be transparent about what goes on behind the scenes. People love getting behind-the-scenes access; so share pictures of employees working hard or customers engaging with you at events.
5) Monitor your content performance

Monitoring your content performance can help you learn what resonates with your audience and what doesn't. It can also give you valuable insight into the type of content they care about most. Here are some key metrics to track:
Number of followers on Twitter, Facebook, Google+ – Number of visits from social media per month – Number of shares on social media
6) Keep up with technology trends
1: Engage your audience with contests and promotions.
2: Increase awareness by using social media to share relevant information about your brand.
3: Attend industry events and use them as a platform for sharing updates about your business, products, or services.
4: Participate in groups on LinkedIn and other social media sites that are relevant to your company's industry.
5: Promote new products and services by giving customers a sneak peak of what they might be interested in.
6: Use hashtags when posting content on the social media site of your choice, so that people can find you more easily.
Conclusion

Social media is an excellent way to connect with current and potential customers. It can take a lot of time and effort, but the benefits are worth it. Follow these six strategies to help build your social media presence and attract more customers.
1) Offer different content for various platforms
2) Be interactive and responsive on all channels
3) Share success stories from other companies
4) Have interesting conversations on trending topics
5) Monitor customer sentiment through mentions or hashtags
6) Take advantage of events such as Talk Like a Pirate Day or International Women's Day